FO1-BV1LT-1P(Lugged type Butterfly Valve–Pneumatic Actuator)
●Brief
The driving mode of LT type butterfly valve can be manual, worm gear, pneumatic and electric; the connection mode can be flange and clamp; the structural form can be single eccentric, central line type, double eccentric and three eccentric; the sealing structure can be soft seal and hard seal.
●Features
1. The design is novel, reasonable, structure, light weight and quick opening and closing.
2. Small operating torque, convenient operation, labor saving and skillful.
3. It can be installed in any position and convenient.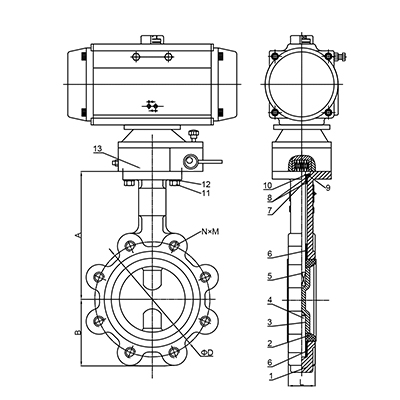 APPLICATION
General Use: Water,sea water,gas, pressurized air, acids etc.
CARACTERISTIQUES GENERALES
Resilient Seat Lug Type Butterfly Valves
Design according with BS EN593/API609
Tightness in both ways.Lug type with threaded ears.
Flexible sleeve adapted to the shape of the body assures low operating torque.High and low semi stem giving a high flow coefficient.machined disc on periphery giving a low and regular torque.Unejectable stem. Mounting flange according to ISO 5211.
CONSTRUCTION
| | | |
| --- | --- | --- |
| 1 | BODY | Cl / DI / WCB / STAINLESS STEEL |
| 2 | SEAT | EPDM / NBR / PTFE / SILICON |
| 3 | DISC | DI / CF8 / CF8M / Al-Bc / DUPLEX STEEL |
| 4 | LOWER SHAFT | SS304/316/416 |
| 5 | UPPER SHAFT | SS304/316/416 |
| 6 | BUSHING | PTFE / BRONZE |
| 7 | O-RING | NBR/EPDM |
| 8 | BUSHING | PTFE/BRONZE |
| 9 | BOLT | STAINLESS STEEL |
| 10 | PRESSURE RING | CARBON STEEL |
| 11 | BOLT | STAINLESS STEEL |
| 12 | FLAT WASHER | STAINLESS STEEL |
| 13 | PNEUMATIC ACUTATOR | |
| NO. | PARTS | MATERIAL |
Manufacture according to the requirements of the European directive 2014/68/EU,modulate H Face to face according to standards NF EN558 SERIE 20.ISO 5752, DIN3202. Mounting between flanges PN16 Body:24bar
Seat:17.6bar
---
---