FO1-BV1LT-1L(Lugged type Butterfly Valve–Handle Operation)
●Brief
Adaptable LUG butterfly valve range for all types of fluids and constraints
Assembled above ground to resolve congestion problems, the LUG range of ductile iron butterfly valves is installed using bilateral screws (and no nuts). It can be adapted for all types of fluid and constraint and, like WAFER, LUG butterfly valves have two friction points. 
●Features
1.Lug butterfly valve is not only widely used in petroleum, gas, chemical industry, water treatment and other general industries, but also used in the cooling water system of thermal power station.
2.It is used for gas pipeline in sulfuric acid industry: inlet and outlet of blower in front of furnace, inlet and outlet of relay fan, series connection valve of electric mist eliminator, inlet and outlet of S02 main blower, converter regulation, inlet and outlet of preheater, etc.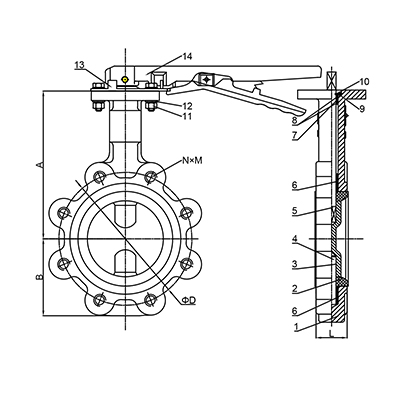 APPLICATION
General Use: Water,sea water,gas, pressurized air, acids etc.
CARACTERISTIQUES GENERALES
Resilient Seat Lug Type Butterfly Valves
Design according with BS EN593/API609
Tightness in both ways.Lug type with threaded ears.
Flexible sleeve adapted to the shape of the body assures low operating torque.High and low semi stem giving a high flow coefficient.machined disc on periphery giving a low and regular torque.Unejectable stem. mounting flange according to ISO 5211.
CONSTRUCTION
| | | |
| --- | --- | --- |
| 1 | BODY | Cl / DI / WCB / STAINLESS STEEL |
| 2 | SEAT | EPDM / NBR / PTFE / SILICON |
| 3 | DISC | DI/ CF8 / CF8M / Al-Bc / DUPLEX STEEL |
| 4 | LOWER SHAFT | SS304 / 316 / 416 |
| 5 | UPPER SHAFT | SS304 / 316 / 416 |
| 6 | BUSHING | PTFE / BRONZE |
| 7 | O-RING | NBR/EPDM |
| 8 | BUSHING | PTFE/BRONZE |
| 9 | BOLT | STAINLESS STEEL |
| 10 | PRESSURE RING | CARBON STEEL |
| 11 | BOLT&NUT | STAINLESS STEEL |
| 12 | FLAT WASHER | STAINLESS STEEL |
| 13 | GEAR DISC | CARBON STEEL / ALUMINUM |
| 14 | HAND SHANK | MALLEABLE IRON / AL / SS |
| NO. | PARTS | MATERIAL |
Manufacture according to the requirements of the European directive 2014/68/EU,modulate H Face to face according to standards NF EN558 SERIE 20.ISO 5752, DIN3202. Mounting between flanges PN16 Body:24bar
Seat:17.6bar
---
---