FO1-BV1LT-1E(Lugged type Butterfly Valve–Electric actuator)
●Brief
The pressure range is pn0.1-10mpa, the nominal diameter is Dn40 ~ 2000mm, and the materials can be cast steel and stainless steel. Due to the wide use of valves, the same valve has different collocation in different fields and working conditions.
●Features
1. The sealing element can be replaced, the sealing performance is reliable, and the two-way sealing is zero leakage.
2. The sealing material has the characteristics of aging resistance, corrosion resistance and long service life.
3. It has the advantages of simple structure, good interchangeability and low price.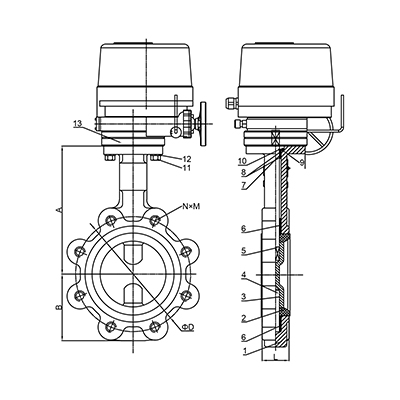 APPLICATION
General Use: Water,sea water,gas, pressurized air, acids etc
CARACTERISTIQUES GENERALES
Resilient Seat Lug Type Butterfly Valves
Design according with BS EN593/API609
Tightness in both ways.Lug type with threaded ears.
Flexible sleeve adapted to the shape of the body assures low operating torque.High and low semi stem giving a high flow coefficient.machined disc on periphery giving a low and regular torque.Unejectable stem. Mounting flange according to ISO 5211.
CONSTRUCTION
| | | |
| --- | --- | --- |
| 1 | BODY | Cl / DI / WCB / STAINLESS STEEL |
| 2 | SEAT | EPDM / NBR / PTFE / SILICON |
| 3 | DISC | DI / CF8 / CF8M / Al-Bc / DUPLEX STEEL |
| 4 | LOWER SHAFT | SS304/316/416 |
| 5 | UPPER SHAFT | SS304/316/416 |
| 6 | BUSHING | PTFE / BRONZE |
| 7 | O-RING | NBR/EPDM |
| 8 | BUSHING | PTFE/BRONZE |
| 9 | BOLT | STAINLESS STEEL |
| 10 | PRESSURE RING | CARBON STEEL |
| 11 | BOLT | STAINLESS STEEL |
| 12 | FLAT WASHER | STAINLESS STEEL |
| 13 | ELECTIC ACUTATOR | |
| NO. | PARTS | MATERIAL |
Manufacture according to the requirements of the European directive 2014/68/EU,modulate H Face to face according to standards NF EN558 SERIE 20.ISO 5752, DIN3202. Mounting between flanges PN16 Body:24bar
Seat:17.6bar
---
---