FO1-BV1LT-2G(Lugged type Butterfly Valve–Gear box Operation)
●Brief
It is easy to control the torque value in a proper range. It is easy to use two section stem without pin connection. The structure is simple and compact, and the disassembly is very convenient.
●Features
1. It can be installed in any position and convenient.
2. The sealing element can be replaced, the sealing performance is reliable, and the two-way sealing is zero leakage.
3. The sealing material has the characteristics of aging resistance, corrosion resistance and long service life.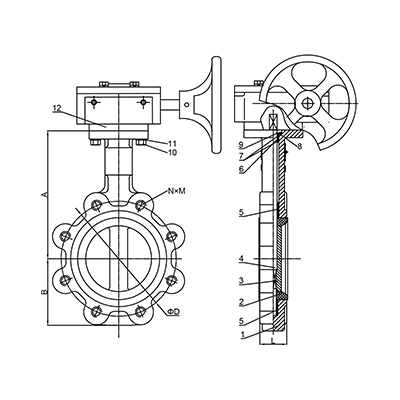 APPLICATION
General Use: Water,sea water,gas, pressurized air, acids etc.
CARACTERISTIQUES GENERALES
Resilient Seat Lug Type Butterfly Valves
Design according with BS EN593/API609
Tightness in both ways.Lug type with threaded ears.
Flexible sleeve adapted to the shape of the body assures low operating torque.machined disc on periphery giving a low and regular torque.Unejectable stem. mounting flange according to ISO 5211.
CONSTRUCTION
| | | |
| --- | --- | --- |
| 1 | BODY | Cl/DI/ WCB / STAINLESS STEEL |
| 2 | SEAT | EPDM / NBR / PTFE / SILICON |
| 3 | DISC | DI / CF8 / CF8M / Al-Bc / DUPLEX STEEL |
| 4 | STEM | SS304/316/416 |
| 5 | BUSHING | PTFE / BRONZE |
| 6 | O-RING | NBR/EPDM |
| 7 | BUSHING | PTFE/BRONZE |
| 8 | BOLT | STAINLESS STEEL |
| 9 | PRESSURE RING | CARBON STEEL |
| 10 | BOLT | STAINLESS STEEL |
| 11 | FLAT WASHER | STAINLESS STEEL |
| 12 | WORM GEAR | CARBON STEEL / ALUMINUM |
| NO. | PARTS | MATERIAL |
Manufacture according to the requirements of the European directive 2014/68/EU,modulate H Face to face according to standards NF EN558 SERIE 20.ISO5752,DIN3202.
Mounting between flanges UNI EN1092:PN10/16,ANSI150,JIS 5K/10K,BS 10 Table E. Etc.
Body:24bar
Seat:17.6bar
---
---