FO1-BV1LT-2E(Lugged type Butterfly Valve–Electric actuator)
●Brief
LT type butterfly valve is suitable for water supply and drainage and gas pipeline of food, medicine, chemical industry, petroleum, electric power, metallurgy, urban construction, light textile, papermaking, etc
●Features
1.In the sulfur burning, conversion and dry absorption section of sulfur burning sulphuric acid system, it is the preferred brand of valve for sulfur based sulfuric acid plant. It is considered as a butterfly valve with good sealing performance, light operation, secondary corrosion, high temperature resistance, convenient operation, flexible operation, safe and reliable use, which has been widely used.
2.Lug type butterfly valve is also widely used in: chemical, petrochemical, smelting, pharmaceutical, food and other industries in the steam, air, gas, ammonia, oil, water, brine, alkali, sea water, nitric acid, hydrochloric acid, sulfuric acid, phosphoric acid and other media on the pipeline as a regulating and intercepting device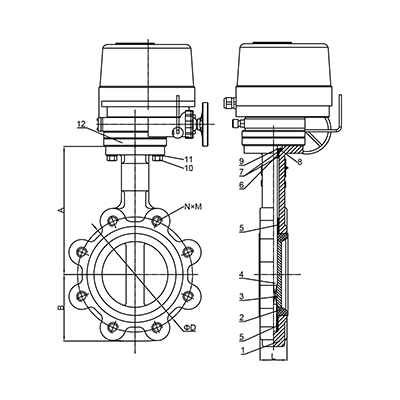 APPLICATION
General Use: Water,sea water,gas, pressurized air, acids etc.
CARACTERISTIQUES GENERALES
Resilient Seat Lug Type Butterfly Valves
Design according with BS EN593/API609
Tightness in both ways.Lug type with threaded ears.
Flexible sleeve adapted to the shape of the body assures low operating torque.machined disc on periphery giving a low and regular torque.Unejectable stem. mounting flange according to ISO 5211.
CONSTRUCTION
| | | |
| --- | --- | --- |
| 1 | BODY | Cl/DI/ WCB / STAINLESS STEEL |
| 2 | SEAT | EPDM / NBR / PTFE / SILICON |
| 3 | DISC | DI / CF8 / CF8M / Al-Bc / DUPLEX STEEL |
| 4 | STEM | SS304/316/416 |
| 5 | BUSHING | PTFE / BRONZE |
| 6 | O-RING | NBR/EPDM |
| 7 | BUSHING | PTFE/BRONZE |
| 8 | BOLT | STAINLESS STEEL |
| 9 | PRESSURE RING | CARBON STEEL |
| 10 | BOLT | STAINLESS STEEL |
| 11 | FLAT WASHER | STAINLESS STEEL |
| 12 | ELECTIC ACUTATOR | |
| NO. | PARTS | MATERIAL |
Manufacture according to the requirements of the European directive 2014/68/EU,modulate H Face to face according to standards NF EN558 SERIE 20.ISO5752,DIN3202.
Mounting between flanges UNI EN1092:PN10/16,ANSI150,JIS 5K/10K.BS 10JALBE Etc.
Body:24bar
Seat:17.6bar
---
---