FN1-BV1W-1L (Wafer Butterfly Valve–Handle Operation)
●Brief
The valve has the function of two-way sealing. It is not controlled by the flow direction of medium or affected by the space position. It can be installed in any direction.
●Features
1. The butterfly valve made of ductile iron has a wide range of applications.
2. The butterfly valve is simple in structure, convenient in operation, compact and flexible.
3. Convenient operation and unique shape.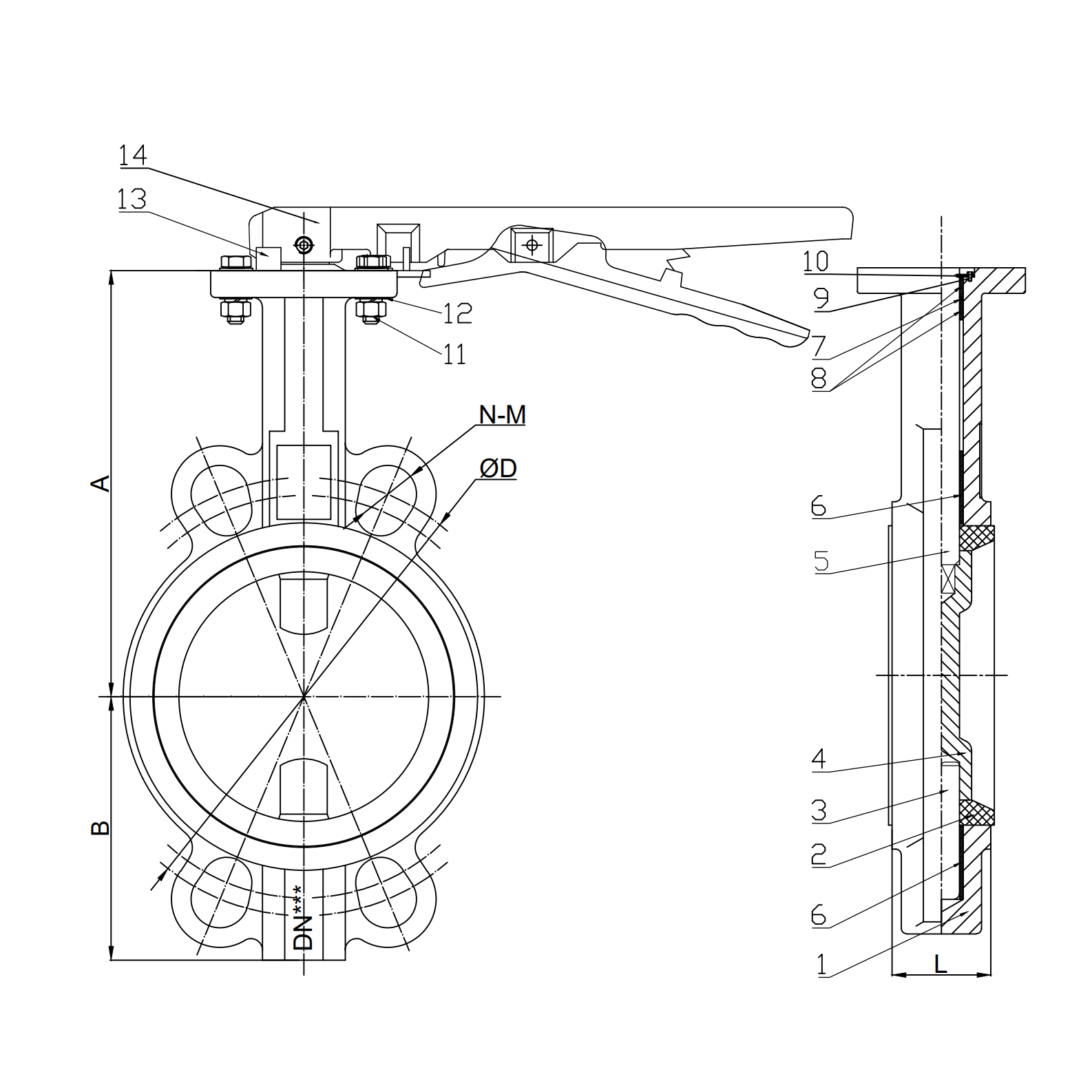 APPLICATION
General Use: Water,sea water,gas, pressurized air, acids etc.
CARACTERISTIQUES GENERALES
Resilient Seat Wafer Type Butterfly Valves Design according with BS EN593/APl609
Testing according with EN598.For Shell:1.5times Sealing:1.1times. Tightness in both ways.wafer type with smooth ears.Resilient seat adapted to the shape of the body assures low operating torque.Mounting flange according to ISO 5211
CONSTRUCTION
| | | |
| --- | --- | --- |
| NO. | PARTS | MATERIAL |
| 1 | BODY | Cl / DI |
| 2 | SEAT | EPDM / NBR / VITON / SILICON |
| 3 | LOWER SHAFT | SS416 / 316 / 304 |
| 4 | DISC | DI / CF8 / CF8M |
| 5 | UPPER SHAFT | SS416 / 316 / 304 |
| 6 | O-RING | NBR / EPDM |
| 7 | BUSHING | PTFE / BRONZE |
| 8 | BOLT&NUT | STAINLESS STEEL / GALVANIZED |
| 9 | FLAT WASHER | STAINLESS STEEL / GALVANIZED |
| 10 | BUSHING | CARBON STEEL / ALUMINUM |
| 11 | BOLT | MALLEABLE IRON / AL / SS |
| 12 | PRESSURE RING | CARBON STEEL |
| 13 | GEAR DISC | CARBON STEEL / ALUMINUM |
| 14 | HAND SHANK | MALLEABLE IRON / AL / SS |
Manufacture according to the requirements of the European directive 2014/68/EU,modulate H Face to face according to standards NF EN558 SERIE 20.ISO 5752,DIN 3202.
Mounting between flanges UNI EN1092:PN10/16,ANSl150,JIS 5K/10K,BS 10,TABLEE etc.
Body:24bar Seat:17.6bar
---
---