FN1-BV1W-2G (Wafer Butterfly Valve–Gear box Operation)
●Brief
The wafer butterfly valve produced by our factory is the first one in China with advanced technology imported from the United States and has a production history of more than 20 years. He has won the National Quality Award for many times. Transmission mode: handle, worm gear drive, pneumatic, electric, etc. The diameter range is dn50-dn 1000.
The butterfly valve of our factory can be used in the pipeline of petroleum, chemical, food, medicine, papermaking, hydropower, ship, water supply and drainage, metallurgy, energy and other systems. It is suitable for a variety of corrosive gas, liquid, semi liquid and solid powder media.
●Features
1. Small in size and light in weight.Easy installation and maintenance.It can be mounted wherever needed.
2. Structure and compact construction,quick 90 degrees on-off operation.
3. Small operation torque, labor saving and light.
4. Flow curve tending to straight line.Excellent regulation performance.
5. Long service life.Standing the test of tens of thousands opening/closing operations.
6. Bubbles-tight sealing with no leakage under the pressure test.
7. Wide selection of materials,applicable for various medium.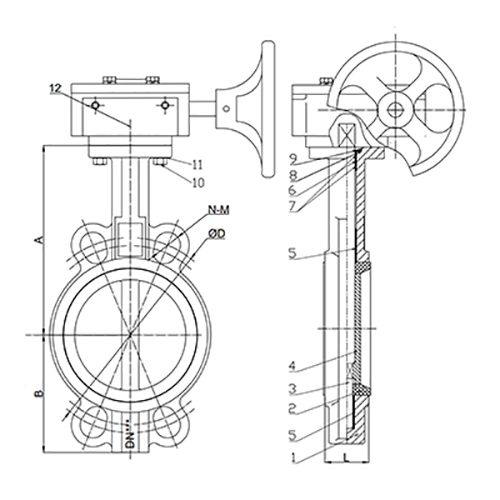 APPLICATION
General Use: Water,seawater,gas, pressurized air, acids etc.
CARACTERISTIQUES GENERALES
Resilient Seat Wafer Type Butterfly Valves Design according with BS EN593/APl609
Testing according with EN598.For Shell:1.5times Sealing:1.1times. Tightness in both ways.wafer type with smooth ears.Resilient seat adapted to the shape of the body assures low operating torque.Mounting flange according to ISO 5211
CONSTRUCTION
| | | |
| --- | --- | --- |
| NO. | PARTS | MATERIAL |
| 1 | BODY | Cl / DI |
| 2 | SEAT | EPDM / NBR / VITON / SILICON |
| 3 | STEM | SS416 / 316 / 304 |
| 4 | DISC | DI / CF8 / CF8M |
| 5 | BUSHING | PTFE / BRONZE |
| 6 | O-RING | NBR / EPDM |
| 7 | BUSHING | PTFE / BRONZE |
| 8 | BOLT&NUT | STAINLESS STEEL / GALVANIZED |
| 9 | FLAT WASHER | STAINLESS STEEL / GALVANIZED |
| 10 | BOLT | STAINLESS STEEL / GALVANIZED |
| 11 | PRESSURE RING | CARBON STEEL |
| 12 | WORM GEAR | DI |
Manufacture according to the requirements of the European directive 2014/68/EU,modulate H Face to face according to standards NF EN558 SERIE 20.ISO 5752,DIN 3202.
Mounting between flanges UNI EN1092:PN10/16,  ANSl150,JIS10K ,BS 10,TABLEE etc.
Body:24bar Seat:17.6bar
---
---