FN1-BV1W-1E (Wafer Butterfly Valve–Electric actuator)
●Brief
The opening and closing part of butterfly valve is a disc-shaped butterfly plate, which rotates around its own axis in the valve body, so as to achieve the purpose of opening and closing or adjusting.
●Features
1. The valve adopts a new structure, which has the sealing function of closing more tightly and has good sealing performance.
2. Stainless steel and NBR oil resistant rubber are used as sealing materials, which are long in use.
3. The rubber seal ring can be located on the valve body or butterfly plate. It can be used in different media for users to choose.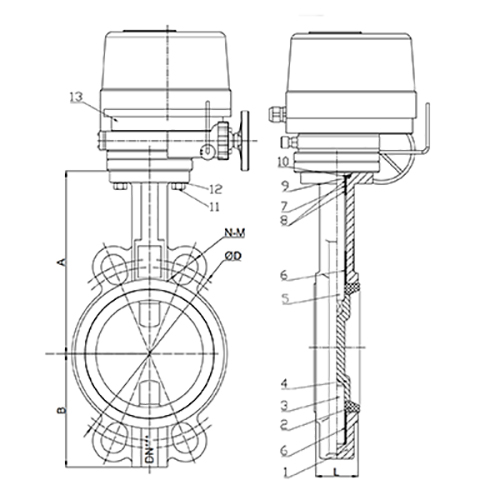 APPLICATION
General Use: Water,seawater,gas, pressurized air, acids etc.
CARACTERISTIQUES GENERALES
Resilient Seat Wafer Type Butterfly Valves Design according with BS EN593/APl609
Testing according with EN598.For Shell:1.5times Sealing:1.1times. Tightness in both ways.wafer type with smooth ears.Resilient seat adapted to the shape of the body assures low operating torque.Mounting flange according to ISO 5211
CONSTRUCTION
| | | |
| --- | --- | --- |
| NO. | PARTS | MATERIAL |
| 1 | BODY | Cl / DI |
| 2 | SEAT | EPDM / NBR / VITON / SILICON |
| 3 | LOWER SHAFT | SS416 / 316 / 304 |
| 4 | DISC | DI / CF8 / CF8M |
| 5 | UPPER SHAFT | SS304 / 316 |
| 6 | O-RING | NBR / EPDM |
| 7 | BUSHING | PTFE / BRONZE |
| 8 | BOLT&NUT | STAINLESS STEEL / GALVANIZED |
| 9 | FLAT WASHER | STAINLESS STEEL / GALVANIZED |
| 10 | BUSHING | PTFE / BRONZE |
| 11 | BOLT | STAINLESS STEEL / GALVANIZED |
| 12 | PRESSURE RING | CARBON STEEL |
| 13 | ELECTIC ACUTATOR |   |
Manufacture according to the requirements of the European directive 2014/68/EU,modulate H Face to face according to standards NF EN558 SERIE 20.ISO 5752,DIN 3202.
Mounting between flanges UNI EN1092:PN10/16 ,ANSl150,JIS10K ,BS 10,TABLEE etc.
Body:24bar Seat:17.6bar
---
---