FD01-BV1DF-3L(Double flanged Butterfly Valve–Handle Operation)
●Brief
When the flange butterfly valve is in the fully open position, the thickness of butterfly plate is the only resistance when the medium flows through the valve body, so the pressure drop generated by the valve is very small, so it has good flow control characteristics. Butterfly valve has elastic seal and metal seal. Elastic sealing valve, sealing ring can be inlaid on the valve body or attached to the periphery of butterfly plate.
●Features
1. Butterfly plate can be sprayed with coating according to user's requirements, such as nylon or PTFE.
2. The valve can be designed as flange connection and clamp connection.
3. The driving mode can be manual, electric or pneumatic.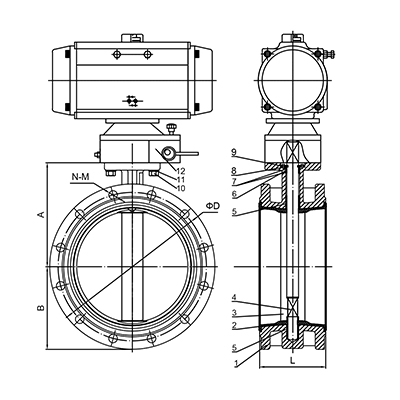 APPLICATION
General Use: Water,sea water,gas, pressurized air, acids etc.
CARACTERISTIQUES GENERALES
Double Flange Type Butterfly Valve.
Design in accordance with NF EN 593.Tightness in both ways. Face to Face:EN558-13 Serial.
CONSTRUCTION
| | | |
| --- | --- | --- |
| NO. | PARTS | MATERIAL |
| 1 | BODY | Cl / DI / CF8 / CF8M / WCB |
| 2 | SEAT | EPDM / NBR / VITON / SILICON etc |
| 3 | DISC | CF8/ CF8M / AL-DC / DUPLEX STEEL |
| 4 | STEM | SS416/SS304/SS316 |
| 5 | BUSHING | PTFE / BRONZE |
| 6 | O-RING | NBR/EPDM |
| 7 | BUSHING | PTFE/BRONZE |
| 8 | BOLT | STAINLESS STEEL / GALVANIZED |
| 9 | PRESSURE RING | CARBON STEEL |
| 10 | BOLT | STAINLESS STEEL / GALVANIZED |
| 11 | FLAT WASHER | STAINLESS STEEL / GALVANIZED |
| 12 | PNEUMATIC ACUTATOR | |
Manufacture according to the requirements of the European directive 2014/68/EU,modulate H Face to face according to standards NF EN558 SERIE 13.ISO5752,DIN3202.Mounting between flanges
Body: 1.5 times
Seat: 1.1 times
WORKING CONDITIONS
Maximum Working Pressure:PN6 / PN10 / PN16
Maximum Working Tempressure table
| | | |
| --- | --- | --- |
| Sleeve type in option | Maximum Temperature | Peak Tempreature |
| EPDM | +4°C~+110°C | -20 °C ~+130 °C |
| EPDM Blanc | +4°C~+110°C | -20 °C ~+130 °C |
| CSM(Type Hypaion) | +4°C~+80°C | -20*C~+110°C |
| FPM (Type Viton) | -10°C~+170*C | -20°C~+200°C |
| Silione | -20°C~+170*C | -40°C~+200°C |
| Nitrile (NBR) | -10°C~+80°C | -20°C~+90°C |
---
---