FD01-BV1DF-2P(Double flanged Butterfly Valve–Pneumatic Actuator)
●Brief
The butterfly plate of butterfly valve is installed in the diameter direction of pipeline. In the cylindrical channel of butterfly valve body, the disc-shaped butterfly plate rotates around the axis, and the rotation angle is between 0 ° and 90 ° and when the rotation reaches 90 ° the valve plate is fully open.
●Features
1. The connection between the butterfly plate and the valve stem adopts the structure without pin, which overcomes the possible internal leakage point.
2. The outer circle of butterfly plate adopts spherical shape, which improves the sealing performance and prolongs the service life of the valve, and keeps zero leakage after more than 50000 times of opening and closing under pressure.
3. The sealing element can be replaced, and the sealing is reliable to achieve bidirectional sealing.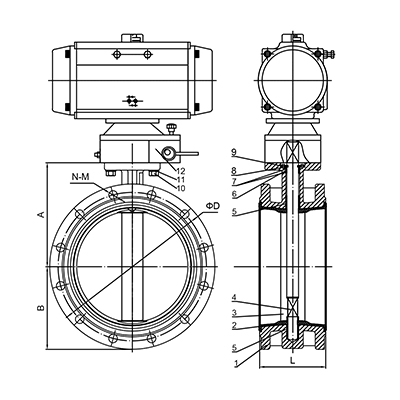 APPLICATION
General Use: Water,sea water,gas, pressurized air, acids etc.
CARACTERISTIQUES GENERALES
Double Flange Type Butterfly Valve.
Design in accordance with NF EN 593.Tightness in both ways. Face to Face:EN558-13 Serial.
CONSTRUCTION
| | | |
| --- | --- | --- |
| NO. | PARTS | MATERIAL |
| 1 | BODY | Cl / DI / CF8 / CF8M / WCB |
| 2 | SEAT | EPDM / NBR / VITON / SILICON etc |
| 3 | DISC | CF8/ CF8M / AL-DC / DUPLEX STEEL |
| 4 | STEM | SS416/SS304/SS316 |
| 5 | BUSHING | PTFE / BRONZE |
| 6 | O-RING | NBR/EPDM |
| 7 | BUSHING | PTFE/BRONZE |
| 8 | BOLT | STAINLESS STEEL / GALVANIZED |
| 9 | PRESSURE RING | CARBON STEEL |
| 10 | BOLT | STAINLESS STEEL / GALVANIZED |
| 11 | FLAT WASHER | STAINLESS STEEL / GALVANIZED |
| 12 | PNEUMATIC ACUTATOR | |
Manufacture according to the requirements of the European directive 2014/68/EU,modulate H Face to face according to standards NF EN558 SERIE 13.ISO5752,DIN3202.Mounting between flanges
Body: 1.5 times
Seat: 1.1 times
WORKING CONDITIONS
Maximum Working Pressure:PN6 / PN10 / PN16
Maximum Working Tempressure table
| | | |
| --- | --- | --- |
| Sleeve type in option | Maximum Temperature | Peak Tempreature |
| EPDM | +4°C~+110°C | -20 °C ~+130 °C |
| EPDM Blanc | +4°C~+110°C | -20 °C ~+130 °C |
| CSM(Type Hypaion) | +4°C~+80°C | -20*C~+110°C |
| FPM (Type Viton) | -10°C~+170*C | -20°C~+200°C |
| Silione | -20°C~+170*C | -40°C~+200°C |
| Nitrile (NBR) | -10°C~+80°C | -20°C~+90°C |
---
---