FD01-BV1DF-3E(Double flanged Butterfly Valve–Electric actuator)
●Brief
This butterfly valve is suitable for petroleum, chemical, food, medicine, papermaking, industrial environmental protection, ship, water supply and drainage, smelting, energy, high-rise building pipeline. It can be used in many corrosive and non corrosive gas, liquid, semi fluid and solid powder pipeline and container as the opening and closing or regulating the cut-off flow.
●Features
1, Drive with handwheel, wrench, manual head and pneumatic and electric hoist operation
2, Removed the valve packing and sealing parts, Saving raw materials, reducing the valve weight.
3, The valve has simple structure, convenient and rapid operation, and thoroughly solves the problems of internal leakage, external leakage, wear and rust.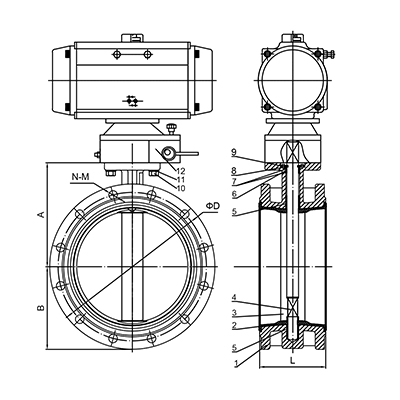 APPLICATION
General Use: Water,sea water,gas, pressurized air, acids etc.
CARACTERISTIQUES GENERALES
Double Flange Type Butterfly Valve.
Design in accordance with NF EN 593.Tightness in both ways. Face to Face:EN558-13 Serial.
CONSTRUCTION
| | | |
| --- | --- | --- |
| NO. | PARTS | MATERIAL |
| 1 | BODY | Cl / DI / CF8 / CF8M / WCB |
| 2 | SEAT | EPDM / NBR / VITON / SILICON etc |
| 3 | DISC | CF8/ CF8M / AL-DC / DUPLEX STEEL |
| 4 | STEM | SS416/SS304/SS316 |
| 5 | BUSHING | PTFE / BRONZE |
| 6 | O-RING | NBR/EPDM |
| 7 | BUSHING | PTFE/BRONZE |
| 8 | BOLT | STAINLESS STEEL / GALVANIZED |
| 9 | PRESSURE RING | CARBON STEEL |
| 10 | BOLT | STAINLESS STEEL / GALVANIZED |
| 11 | FLAT WASHER | STAINLESS STEEL / GALVANIZED |
| 12 | PNEUMATIC ACUTATOR | |
Manufacture according to the requirements of the European directive 2014/68/EU,modulate H Face to face according to standards NF EN558 SERIE 13.ISO5752,DIN3202.Mounting between flanges
Body: 1.5 times
Seat: 1.1 times
WORKING CONDITIONS
Maximum Working Pressure:PN6 / PN10 / PN16
Maximum Working Tempressure table
| | | |
| --- | --- | --- |
| Sleeve type in option | Maximum Temperature | Peak Tempreature |
| EPDM | +4°C~+110°C | -20 °C ~+130 °C |
| EPDM Blanc | +4°C~+110°C | -20 °C ~+130 °C |
| CSM(Type Hypaion) | +4°C~+80°C | -20*C~+110°C |
| FPM (Type Viton) | -10°C~+170*C | -20°C~+200°C |
| Silione | -20°C~+170*C | -40°C~+200°C |
| Nitrile (NBR) | -10°C~+80°C | -20°C~+90°C |
---
---