FGV01-F4-16(DIN 3352-F4 Rising Stem Seat Gate valve)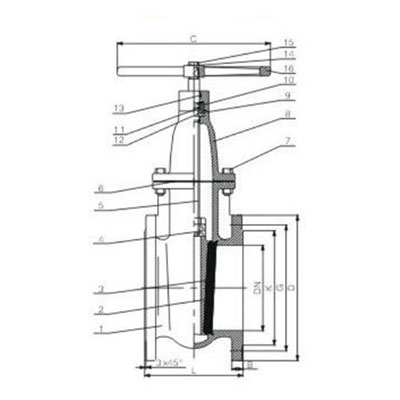 •Brief
Metal seal cast iron gate valve is one kibd of equipment which can be widely used on oil and steam pipelines in petrochemical plant and coal-fired power plants to connect or truncate the medium in pipelines. This valve has the advantage of compact structure, reasonable design, good rigidity, smooth channel and small flow resistance coefficient. This kind valve adopt flexible graphite packing to make seal reliably, operate portably and flexibly. Stainless steel and hard alloy deat to make service life longer. The drive way can be classified into manual, electric, pneumatic and gear transmission.
Rubber lined gate valves
A rubber lined, slightly wedge-formed slide acts as a closing element of the rubber lined gate valves. The slide rises and lowers by revolving the valve stem. Thanks to the rubber lined wedge solution, the valve is not particularly sensitive to the impurities remaining between the slide and the sealing surface as is the case with a traditional wedge gate valve.
Applications in water engineering
The pressure resistance of the rubber lined gate valve is based on 10bar or 16bar. so its typical application is to act as a shut-off valve in the water piping.
Overall & Connection Dimensions
Nominal diameter

 Size ( mm)

DN
L
D
DI
D2
B
C
n-<Pd
Mm
Inch
PN10
PN16
PN10
PN16
PN10
PN16
DI
GI
PN10
PN16

40

1.5"

140

150

150

110

110

87

87

19

18

180

4-0 19
4-<t> 19

50

2"

150

165

165

125

125

102

102

19

20

180

4-0)19

4.19

65

2.5"

170

185

185

145

145

122

122

19

20

180

4-0 19
4-0 19

80

3"

180

200

200

160

160

138

138

19

22

200

4-0)19
8-0 19

100

4"

190

220

220

180

180

158

158

19

24

200

8-0 19
8-0 19

125

5"

200

250

250

210

210

188

188

19

26

250

8.19

8-0 19

150

6"

210

285

285

240

240

212

212

19

26

250

8-0)23
8-0 23

200

8"

230

340

340

295

295

268

268

20

280

8-e 23

12.23

250

10〃

250

395

405

350

355

320

320

22

320

12.23

12-0 27

300

12"

270

445

460

400

410

370

378

24.5

350

12-O23
12-0 27
---
Previous:
FCV01-W16(Wafer butterfly check valve)
---